The doypack bag is a format with a round base that gives it maximum stability. It is ideal for being displayed vertically on shelves in large retail outlets and sales areas. Thanks to its design and format, this type of packaging provides added value to the product it contains. It can be used as packaging for all types of product, either solid, liquid or powdered.

This bag can be made of different materials and there are varying finishes, such as zip, easy-to-open, rounded edges, special die cuts, etc. It is primarily made using transparent barrier film, with aluminium, with paper, and metallised.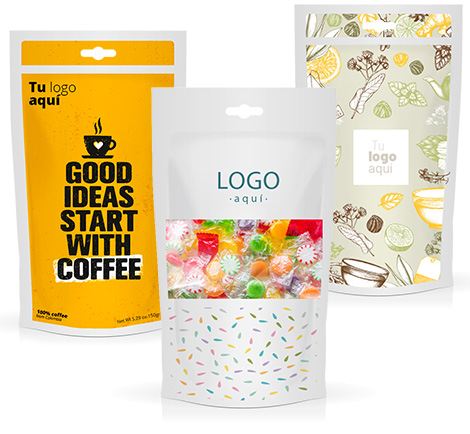 Doypack packaging provides great resistance and a high capacity to preserve the properties of its contents. It is therefore especially suitable for the packaging of all types of concentrated product and food product, in liquid and solid state. Some of the products it can hold are: olives, juices, dried fruit and nuts, cereals, vegetables, pulses, detergents, liquid and powder fabric softeners, and others. In its metallised version, this bag is ideal for packaging coffee, cocoa, and any other product that needs a light barrier to maintain its properties and remain well preserved.

It can be custom printed and opening elements can be added, such as a zip, easy-to-open, transparent windows, a die-cut hole for hanging and other special formats, in line with customer requirements.
Design your custom Doypack bags
With our digital printing technology, you can customise the design, even on small runs, for high performance and to adapt the design of the product to specific marketing activities or even to consumer testing. Small changes to the design of Doypack bags make them really useful for identifying the different products in a given range.
Start customising your doypack bag with our on-line configurator
Select one of the following options that best meets your needs: size, material and finish. Choose one of our pre-set designs to create your own doypack bag and adapt it to your product.
If you have your own design, download the instructions on what your file should be like and how it should reach us so that it can be used. We will use all this information to send you a detailed, bespoke quotation.