Back-seal bags are made with two seals: one vertical and another horizontal. They can also be made with side folds or pleats. The vertical seal can be centred on the back of the bag or moved to one side, depending on the requirements of the product it contains and the restrictions of its size.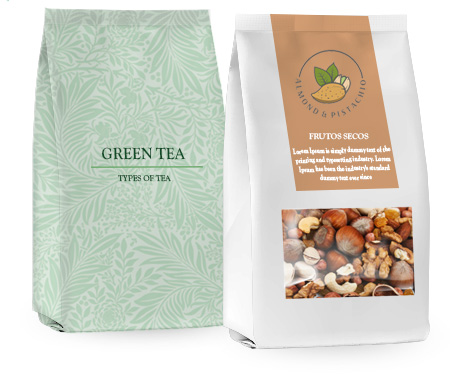 It also has different applications, which vary depending on the materials used to make it. Some of the most common uses and applications are the packaging of products that need to preserve their aroma (air fresheners, scented bathroom products, scented wax, etc.), the packaging of food products, in powdered or bean format, such as coffee and cocoa (beans, ground, and vacuum) and the packaging of solid products, such as chocolate, almonds, etc. Back-seal bags are also suitable for the packaging of vacuum products, such as nougat.

If you have decided to use a back-seal bag, our team of consultants will guide you in designing your ideal packaging, analysing its characteristics and the possibilities of your sector.
Design your custom Back-Seal bags
With our digital printing technology, you can customise the design, even on small runs, for high performance and to adapt the design of the product to specific marketing activities or even to consumer testing. Small changes to the designs of this system makes it ideal for identifying the different products in a given range.
Start customising your back-seal bag with our on-line configurator
Select one of the following options that best meets your needs: size, material and finish. Choose one of our pre-set designs to create your own back-seal bag and adapt it to your product.
If you have your own design, download the instructions on what your file should be like and how it should reach us so that it can be used. We will use all this information to send you a detailed, bespoke quotation.