If you have an automatic packaging system, we can offer the most commonly used complex films in the market for vertical or horizontal machines, or lids for trays.

Our digital printing system offers very tight delivery times and medium and small runs without the need for a very high stock that might become obsolete due to a new law or a change in image. Our technology means that several references can be printed in the same run without the cost of printing plates.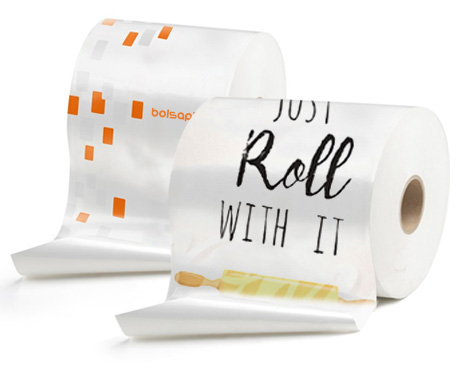 Our standard materials are the most commonly used in the market, such as BOPP, PET, BOPA and PE. We offer metallised films with high barriers and performance. Behaviour in the packaging machines is excellent and our experience guarantees the best food safety of your product.

Forget about using anonymous foils and self-adhesive labels on your different references. Fully customise your packaging and gain presence and prestige in the display and sales areas. Give your product the best image it deserves.
Design your custom Film Bags
With our digital printing technology, you can customise your design, even on small runs, for high performance and to adapt the design of the product to specific marketing activities or even to consumer testing. Small changes to the designs of this system makes it ideal for identifying the different products in a given range.
Start customising your Film Bag with our on-line configurator
Select one of the following options that best meets your needs: size, material and finish. Choose one of our pre-set designs to create your own packaging.
If you have your own design, download the instructions on what your file should be like and how it should reach us so that it can be used. We will use all this information to send you a detailed, bespoke quotation.